Vendìcari, Torre Sveva (Swabian Tower)
PJ (Margherita Montoneri)
I remember the tuna fishery of Bafutu, or "Tonnara di Capo Bajuto" abandoned and almost precarious, but it had the good fortune of conservative restoration, that left intact its charm: next to the Tower you can still recognize the part of the tuna fishery used for the tuna processing, the warehouses and the houses of the tuna fishermen. At that time for us, it was only an imaginative and fairy playground, even if something made us understand that we are playing in a "special" spot, reserved to a few.
Vendìcari, Pantano Grande (Great Morass)
PJ (Margherita Montoneri)
But Vendicari is not only sea.
If you choose not to go to the little bar by the sea (you can go to the bar at the entrance of the nature reserve, beside a small restaurant) and instead of a beach bag you find a small backpack and a bottle of water, you can venture out on the twisted paths of the reserve.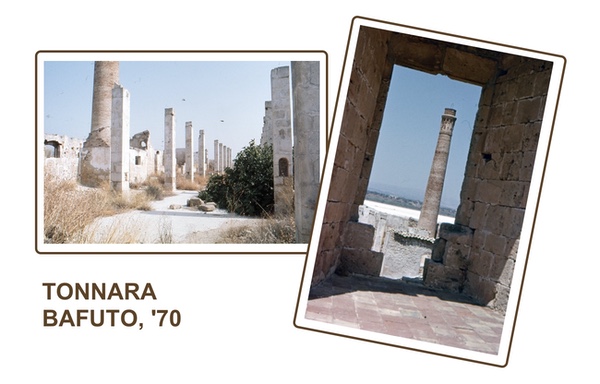 Vendìcari, Tonnara Bafuto
Mario Montoneri, anni '70
Breathtaking views to the sea, Greek quarries, Byzantine church and catacombs, the ancient Elorina route await you, like small gems along the way.
The paths are affordable for anyone. Sometimes they can be flooded or muddy, but certainly worth an exploration (maybe in some another episode).
The Oriented Nature reserve Animal Reserve of Vendicari is between Noto and Pachino, in the province of Siracusa (Sicily).
With its almost 1500 hectares of untouched nature, the free access to the beach and its easy paths, Vendìcari is a real birdwatching paradise.
Being only a few Km from the climbing spot of Avola, its beach is the climber meeting point at the end of the day.
But, being a few dozen of Km from the other climbing spots of Ragusa and Siracusa, it's also an ideal spot for family tourism.