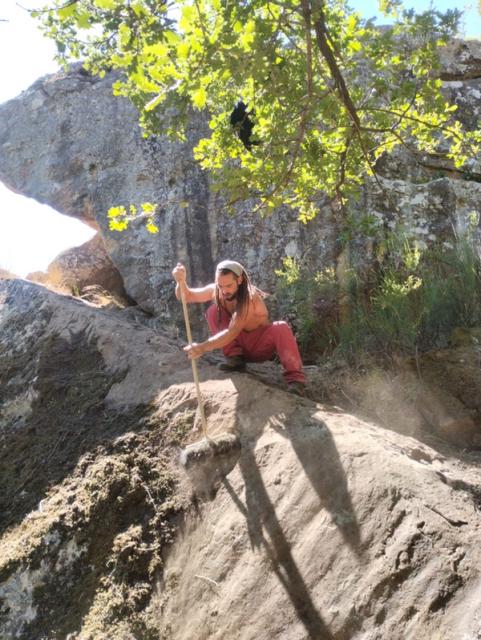 Davide Scornavacca at work
Biologist, Wildlife Researcher, science teacher, route setter and  F.A.S.I. (Italian Sport Climbing Federation) Climbing Instructor. In 2010 he took his first steps into the climbing world. Even if he is now a passionate boulderer, in that time he was used to climbing in the Easter Sicily crags.
Around 2012, a Climbing partner one of his climbing partners discovered a spot on the Etna's slopes with a tot of blocks. Such spot, which would later become Bronte Blocks,  was near the municipality of Bronte (in the province of Catania).
Cleaning in Bronte Blocks
Ar. Davide Scornavacca
Since then Davide, aka "Cumpà" among climbers, has dedicated himself to the development of Bronte Blocks, continually cleaning the blocks and setting new lines. Bouldering was not much developed as sport Climbing in Sicily, at that time. And still it's practiced by not many people, and in seldom frequented areas.
Meanwhile, some work commitments took he away from Sicily. That's how he had the opportunity to climb in other, more well-known, Italian boulder spots: Pietre Piane, (in Abruzzo), Soriano (in Lazio) Amiata and Sassofortino (in Tuscany), Val Daone (in Trentino Alto Adige) and to broaden their own horizons in the climbing world, and also to grow at a technical level.
Davide Scornavacca - Bouldering in Bronte Blocks
In the same years, he began editing the first topo of Bronte Blocks, a boulder area offering more than 500 lines from IV to 7c+/8a grade through sandstone blocks, which at now is one of the most interesting spot in the Southern Italy.