Route descriptions for first ascents on this wall of Capo Cozzo Crag, Calabria.
Capo Cozzo Crag, Northern Crag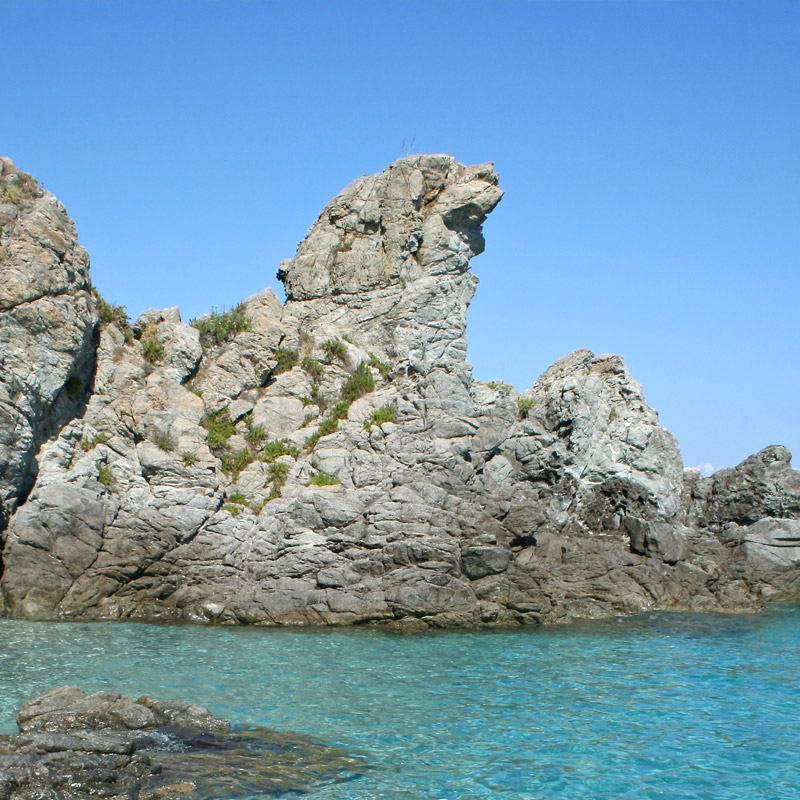 Scoglio del Leone
A.Rigney
In the days following the first ascents on the Southern Crag of Capo Cozzo, we focused our attention on possible routes of the Northern Crag.
This Northern Crag is located on the back of the rockface mentioned in my previous article.
The northern and southern walls of this crag are accessed separately by walking from different points, though they can be connected by either "rock-hopping" or a fun deep water solo traverse around the base of the rock known as Scoglio del Leone.
Routes established on the Northern Crag
A.Rigney
1. Pinball Wizard (HVS / V+)
Given it's name due to the back-and-forth, zig-zag line, this route is a mix of relatively large holds mixed with a variety of pockets and occasional crimps along one or two small channels running through the rock. 
2. The Don Wall (E1 / 6a)
This route requires good footwork and strong fingers. Many of the best holds on this route are crimps along small channels running diagonally upwards from left to right. A small, grassy ledge continuing from "Pinball Wizard" about two thirds of the way up provides a small rest before a number of pinches and a medium-sized jug to the left lead to the topout.
Climbers Andrew & Shay Rigney
A.Rigney
3. Hahn's Solo (S / IV)
This route was given a low grade due to large, sturdy holds almost to the very top. A nice, straightforward ascent with a high ledge before the finish which requires a small amount of clever footwork to reach the final ledge. This route was named in homage to both outdoor educator Kurt Hahn and my love of Star Wars.
4. Lion's Mane ( HS / IV+)
This route begins with an enjoyable traverse from the base of the main wall towards Scoglio del Leone. The route then continues upwards along the back of the "Lion" and up the side of it's mane and onto the top of it's head. Decent holds throughout the climb, but caution needed so as to not damage the locally-loved "Lion Rock"